Club Grading and Christmas Social, December 2010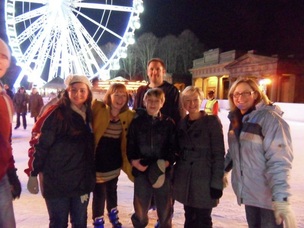 Chester club had another very successful grading at The Old Chapel, Hoole, on Sunday 12th December 2010. Our examiner for the day was Trident TKD Academy's chief instructor, Mr James Miley (V dan). He was very impressed by the technical standards of our students and singled out Hannah Ward for special praise, awarding her an A' grade pass for her red belt.

Later in the day, many of our club members went to the ice rink at the Chester Christmas village where we spent an enjoyable hour trying to stay on our feet, followed by a well deserved meal at Pizza Express. It was a great way to end a very successful year for the club and a good time was had by all!
---
Black Belt Grading, November 2010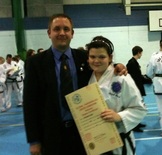 Congratulations to the Chester students who passed their black belt grading in Coventry on Saturday 20th November 2010. The successful students were:
Alex Roberts (on her 10th birthday!) and Olivia Newton (1st degree),
Ashley Ward (1*) and Stephanie Ward (1.5 degree).
A great performance by all of you!
---
Chester TKD International World Champion!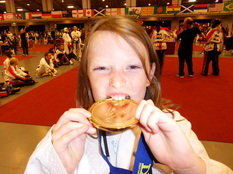 Massive congratulations to Alex Roberts, who won a gold medal in her category at the TKD International World Championships at the International Centre, Telford on Saturday 11th September. She was presented with her medal by Grand Master CK Choi (IX dan), who is one of the most respected and famous, pioneering Taekwon-do masters in the world. He was also the first ever Taekwon-do world champion.
Olivia Newton also competed at the championships and fought very well against fantastic opposition, but after taking gold and silver at the GTUK Goodwill International a few months earlier, she narrowly missed out on the medals this time. A local press article on the tournament can be viewed
here
.
---
Chester City Centre Taekwon-do Demonstrations, 22nd August 2010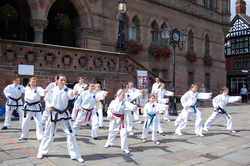 On Sunday 22nd August, Chester Taekwon-do performed a number of TKD demonstrations in the city centre, in Town Hall Square. The crowds were impressed as Chester students were joined by a number of guest black belts from other clubs in the Trident TKD Academy and Mr Emm talked them through demonstrations that included all the major aspects of Taekwon-do, including patterns, self-defence moves, sparring, pad work and of course, breaking wooden boards. It was an enjoyable and successful day, providing the Chester shoppers and tourists with great entertainment. Thanks very much to all who took part, especially our guests from the Trident clubs in Manchester.
---