Training with Olympic Medallist Sarah Stevenson, Sat 24th November 2012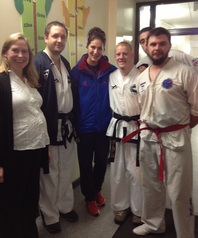 On Saturday 24th November 2012, several Chester Taekwon-do members took advantage of a special opportunity to train with Olympic medallist and multiple World Champion, Sarah Stevenson. The training sessions took place in Manchester along with our colleague clubs from Trident and T-UK.

Sarah took us through a number of fitness and sparring exercises along with her husband and coach, Steve Jennings. They explained the science behind their training regimes and how each exercise improved their medal chances at major competitions.

All the participants had a great time training with Sarah and learned a great deal. Afterwards, she was kind enough to answer questions and pose for photographs. Sarah is shown with Chester's adult members on the left and a number of other photographs are shown below.
---
---
Black Belt Grading Success, 11 November 2012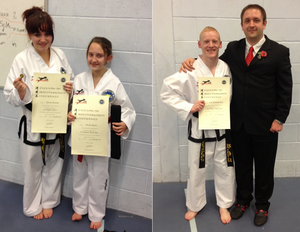 Chester Taekwon-do had three entrants in the Taekwon-do UK black belt grading in Stratford-upon-Avon on Sunday 11th November 2012.

The grading test took place on Sunday after a hard day of training on Saturday 10th November. The grading examiners were T-UK President Mr Archer and vice-president Mr Ridley (both VI dan) and they were ably assisted throughout the weekend by 5th dan international instructors Mr Miley, Mr Crisp and Mr Noddings. All of this made for a long, hard weekend and everyone in the grading was thoroughly tested, to the limits of their ability.

Despite the tough weekend, we are proud and delighted to announce that all of Chester's participants were successful, so we now have a new junior 1st dan black belt, Nicola Burns. Olivia Newton passed her 1st dan 1 star test and Mr Scot Hickinbottom successfully graded to 2nd dan! All of these members are pictured on the left with their proud instructor, Mr Emm. Huge congratulations to you all!
---
---
ITF Taekwon-do World Cup, Brighton, 4-7 October 2012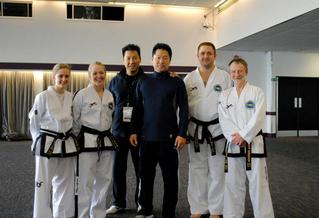 On 4th to 7th October 2012, the ITF Taekwon-do World Cup was held in Brighton, UK. Over 1600 competitors took part from 46 countries. This was one of the largest Taekwon-do tournaments ever held. Numerous Masters and Grand Masters were there and the standard of Taekwon-do was fantastically high.
Chester instructor Mr Jonathan Emm and Mrs Julia Emm went to the tournament for the weekend, to support the Taekwon-do UK competitors and to soak up the atmosphere. Mr Emm also had a once-in-a-lifetime opportunity to train with Masters Philip and Simon Rhee, who are famous for playing Tommy Lee and Dae Han in the film 'Best of the Best'. They were special guests at the tournament. Mr Emm is pictured with Masters Rhee, along with the other T-UK members that took part in their training seminar.
The T-UK competitors all performed admirably and special congratulations go to our Scottish members, who won several medals between them, including Mr David Condie (IV dan). The highlight of the tournament was the Gala finals night on Saturday evening, which featured 11 finals from differants categories. Some photographs from the finals night are shown below. Also below are videos of the two finalists in the pre-arranged free sparring competition; Norway (runners up) and New Zealand (champions).
Overall, it was an unforgettable experience and everyone there was excited to be part of it and part of the ITF, which showcased such a great event. This is what Taekwon-do is about! The full World Cup report on the ITF Europe website can be seen
here
.
---
---
Mr Ridley VI visits Chester Taekwon-do as we launch new senior class
On Sunday 30th September, Chester Taekwon-do launched our new senior grade class with a special guest instructor, T-UK Vice-President, Mr Ian Ridley VI. Chester Taekwon-do have run a monthly black belt class for the last couple of years, but as our association's standards improve, our coloured belt members are expected to perform more like black belts. Therefore, to ensure that our members are more thoroughly prepared when they get to take their black belt grading tests, we have now opened our senior class to all members at blue belt and above. From now on, each month, blue and red belt members will get to train with the black belts for 1.5 hours. The black belts will continue for another hour so that they still get the chance to practice their patterns and techniques in detail.

Mr Ridley came to teach our first new-format class and everyone enjoyed the experience, as Mr Ridley put our members through their paces and gave them a thorough lesson in all aspects of Taekwon-do. Whilst the focus was largely on technical detail, Mr Ridley also gave everyone a good physical workout, with a series of exercises, fixed sparring and free sparring. The larger class meant that there was a real atmosphere in the dojang, which made it all the more enjoyable. After the coloured belts left at 5.30 pm, the black belts spent another hour on a real in-depth study of the black belt patterns. All were grateful for the time and opportunity spent to fully understand each technique that they have been learning.

After training, Mr Ridley joined 16 of our students at a local Indian restuarant, which was the perfect way to end a great afternoon of Taekwon-do.
---
Chester FC's Lupus visits Chester Taekwon-do's Black Belt Class, 22nd July 2012
On Sunday 22nd July, Chester Taekwon-do's black belt class received a special visitor; Lupus, the official mascot of Chester FC. Here are a few photographs of Lupus with some of our members.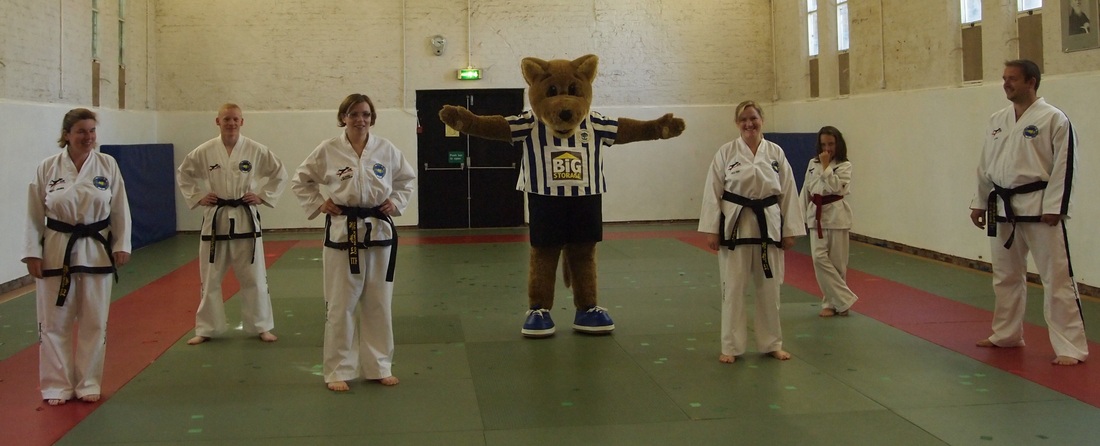 ---
Chester Club Grading, Sunday 17th June 2012
On Sunday 17th June 2012, Chester students were tested at our latest club grading. As usual, the participants were given a tough and thorough test by Taekwon-do UK Chairman and England squad coach, Mr James Miley (V dan). Our members performed very well again and everyone was successful in reaching their next grade.

ITF Taekwon-do Kids Development Course, Croydon, 9-10 June 2012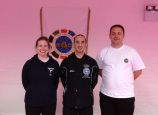 On 9th and 10th June, Chester Taekwon-do instructors, Mr Jonathan Emm (IV dan) and Mrs Katharine Shuler (II dan) attended the ITF Taekwon-do Kids Development Instructor's training course in Croydon, London. The course was taught by ITF England president, Master Donato Nardizzi (VIII dan) and there were delgates present from all over the UK and from a few countries around Europe. Also taking part in the course was Master George Vitale (VIII dan), who travelled from New York to take part.
The course was expertly taught by Master Nardizzi, who is chairman of the ITF's Children's Development Committee, and it included an all new syllabus designed for kids under the age of 8 years, which emphasises developing their skills and characters in the right way for them to excel at Taekwon-do as they get older and progress through the grades. It was a thoroughly enjoyable and very informative course and everyone that took part learned a great deal. A report on the course is also available on the ITF website (click
here
).
---
Taekwon-do UK Scottish Goodwill Championships, Edinburgh, 2nd June 2012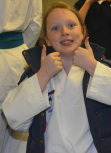 On Saturday 2nd June 2012, a small team from Chester Taekwon-do entered this prestigious and enjoyable tournament in Edinburgh. Our competitors were Mr Scot Hickinbottom (I dan), Alex Roberts (I dan) and Zoe Spencer (6th kup). Mr Jonathan Emm and Mrs Julia Emm were also present, as umpires/officials.

It was another strong performance from our members, with Zoe taking gold in power breaking and Alex getting gold for patterns and bronze for sparring. Scot cam up against the eventual winner, Mr Karl Davis, early on in his category and did well to make Karl work hard for his win.

Congratulations to Chester's members again. You did us proud travelling up to Scotland and putting in a strong performance!
---
Black Belt Grading Success, Sunday 13th May 2012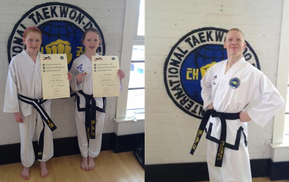 Three of Chester Taekwon-do's students took their black belt grading tests at the Trident academy in Manchester on Sunday 13th May. I am delighted to report that all three were successful, after putting in very strong performances.

The chief examiners at the grading were Taekwon-do UK's President and vice-President, Mr Archer and Mr Ridley (both VI dan). They were ably assisted by Mr Miley and Mr Crisp (both V dan). All of the candidates were tested thoroughly on their basic kicks and techniques, their patterns, self-defence moves and various types of sparring. They were also asked to attempt various breaking techniques on wooden and re-breakable plastic boards of varying difficulties according to their grade level and age range. Finally, after completing the physical part of the grading, they were questioned on their knowledge of Taekwon-do techniques, including Korean terminology.

In the morning session, two of Chester's junior girl members took part in the junior test. Hania Arthur was promoted to 1st degree black belt and Alex Roberts was promoted to 1st degree, 2 star. A video of Alex doing her jumping side kick (twimyo yop chagi) break is shown below. In the adult grading the same afternoon, Mr Scot Hickinbottom scored highly on his pre-2nd degree assessment test.
---
---
Taekwon-do Demonstration at Chester RAF Cadets club, Friday 20th April 2012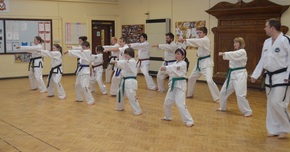 On the evening of Friday 20th April 2012, Chester Taekwon-do performed two demonstrations for the Chester RAF Cadets club, at their training hall on Abbott's Park, near Liverpool Road. Our demo team of 5 black belts and 10 coloured belts, of all ages, impressed the RAF cadets with a performance that included basic techniques, patterns, pad work, fixed sparring, free sparring, knife defence work and of course, power breaking. We also got much of our audience to join in the basics and it was clear that they enjoyed themselves as they copied our kicks, blocks and hand strikes. Thanks very much to everyone that took part!
---
---
Chester Club Grading and Black Belt Class, Sunday 25th March 2012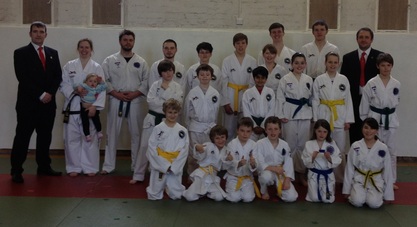 On Sunday 25th March 2012, we had our latest club grading. Eighteen Chester students took part and were, as usual, given a tough test by T-UK Chairman, Mr James Miley (V dan). The club gave one of our best ever grading performanaces and everyone was successful in reaching their next grade. Mr Miley singled out 9 year-old Freya Arthur for special praise, awarding her an A' grade pass and commending her for her patterns and sparring performance. Well done to everyone that passed the grading test!

After the grading, Mr Miley stayed and taught a black belt class for our senior grade members. He spent much of the first hour teaching real technical detail on how to correctly form sine-wave motion and waist twist to perfect your techniques. The second hour was much more physical, focussing on kicking and sparring drills, which everyone thoroughly enjoyed. We look forward to the next time that Mr Miley can teach our class.
---
1st T-UK British Team Championships, Manchester, Sunday 11th March 2012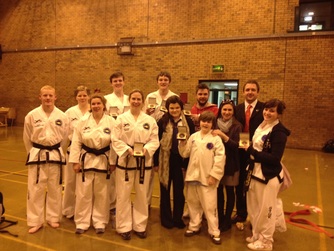 Chester Taekwon-do had our most successful ever tournament at the 1st T-UK British Team Championships. We had 14 competitors taking part, as well as providing a few officials and referees. Chester took home 3 team gold medals, 1 individual gold and several silver and bronze medals! Huge congratulations to evryone that attended, on a very proud day for our club.

The full list of our medals is as follows:

'The Handbridge Massive', aka Jon Fussell, Dom Beckett and Alec Shuttleworth - team gold for patterns and team gold for sparring.
Nicola Burns and Hania Arthur - team gold for patterns and team bronze for sparring.
Jon Fussell - individual gold for breaking.
'Chester black belt ladies team'; Katharine Shuler, Beth James and Helen Martin - silver for patterns and bronze for sparring.
Olivia Newton - silver for patterns, silver for sparring and bronze for special technique.
Scot Hickinbottom - silver for sparring.
Amy Glass - silver for patterns and bronze for sparring.
Morgan Nunn - bronze for sparring.

---
70th ITF International Instructor's Course (IIC), Watford, 27th-29th January 2012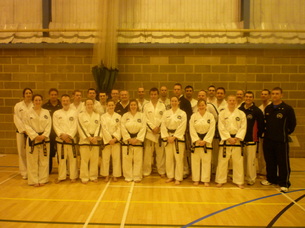 Five of Chester TKD's black belts took part in the 70th ITF International Instructor's course (IIC) in Watford, Hertfordshire, from Friday 27th to Sunday 29th January 2012. Over 230 people took part in the course, which was taught by the three Grand Masters of the ITF Technical committee; GMs Hector Marano, Willem Bos and Ung Kim Lan (all IX dan). Also present was Grand Master Tom MacCallum (IX) from Scotland. Among those training in the rows were a dozen or so Masters (VII and VIII dan) and most of the senior instructors from Taekwon-do UK, including about 20 black belts from our own Trident regional group of clubs. All the T-UK participants are shown in the photograph here.
Chester members that took part were senior instructor, Mr Jonathan Emm (IV), Katharine Shuler (II), Julia Emm, Beth James and Scot Hickinbottom (all I). All of us were astonished by the level of knowledge that the Grand Masters had and the way they explained techniques in such a way that we not only understood how to perform them, but also exactly how they worked and when they should be used. As well as covering all 24 patterns, we were taught many fantastic sparring and self-defence drills and a number of crazy but enjoyable warm-up exercises! This was a great event and all of us that took part will remember the experience for many years. Click
here
for the report on the ITF website.
---