Coloured Belt Grading Test, Saturday 13th December 2014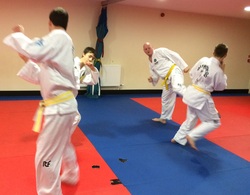 Our last coloured belt grading test of the year was on Saturday 13th December and it was one of the most successful of the year too.

All of the Chester members that entered were successful in reaching their next grades and we also had three A' grade passes. These are very hard to achieve under T-UK President, Mr Archer's tough testing regime, so special congratulations go to, Aaron Joinson, Tom Degg and Kris Dawson for a rare achievement!

Well done to all and let's hope our club standards continue to be so high next year!


---
---
Trident (North-West) Championships, Sunday 2nd November 2014
On Sunday 2nd November 2014, the annual Trident Taekwon-do, North-West regional championships took place at the George Carnell Lesiure Centre, Manchester. Several Chester members took part and all of them put in strong performances, showing the high level of skill that our members have. Our mental strength and discipline was also demonstrated by the exemplary attititudes of our competitors, when both winning and being beaten, even by our youngest members.

Big congratulations go to our medal winners on the day:
Mr Scot Hickinbottom - bronze in patterns;
Nicola Burns - silver in patterns;
Ella Clancy - silver in patterns and gold in sparring

A special mention should also go to green belt mmeber Finn I'Anson (8 years old), who was in the largest patterns category of the day, with nearly 50 competitors, from green belt to black tag, 8 to 10 years old. Despite being one of the youngest and lowest grade members in the category, Finn got through three rounds, going out in the quarter finals. All of the competitors in the semi-finals were 10 year old, red belts and black tags.

Coloured Belt Grading Test, Saturday 27th September 2014
Congratulations to the Chester TKD members who successfully passed their grading tests at the Trident TKD Academy in Sale on Saturday 27th September. There were not many grading this time, as is always the case just after the summer break, but those that entered put in a great performance. Very well done to Ella and Molly Shaw, and Aman and Simran Rayet. Special congratulations to Simran, who received an A' grade pass and to Molly, who was double promoted!
---
Training Seminar with Master Jerzy Jedut, Sunday 3rd August 2014
On Sunday 3rd August, our local group of clubs, Trident TKD, had the honour of hosting training seminars with Master Jerzy Jedut (VII Dan) at the David Lloyd Centre in Trafford Park, Manchester. Master Jedut is the Polish national coach and his team has been the most successful nation at the last few ITF World and European championships. He has also trained 6-time world champion, Mr Jaroslaw Suska, so Master Jedut is understandably famous and admired throughout the world.

Master Jedut did a two hour seminar in the morning for kids under 13 years, which was attended by Chester's Miss Nicola Burns (see a few of the photos below). In the afternoon, the teens and adults had 4 hours of training, which Chester instructors Mr Jonathan Emm and Mr Scot Hickinbottom took part in.

It is something of an understatement to say that Master Jedut worked us all very hard and he wowed us all with some exercises and routines the likes of which none of us had ever seen or endured before! All of us were genuinely exhausted by the end of the training, but very much enthused and excited by the experience that we'd had. Also present was Master Tom Denis of ITF England, who was escorting Master Jedut around the country as he performed a short series of seminars.

Some more photos of the seminar can be seen on our club Facebook page: https://www.facebook.com/groups/295410630474755/
---
Mr Ridley class in Chester, Sunday 27th July 2014
On Sunday 27th July, T-UK Vice-President, Mr Ian Ridley (VI Dan) was again kind enough to come at teach our club at the Old Chapel in Hoole. Although a number of people were on away on holidays, so we didn;t have quite as big a class as usual, Mr Ridley gave a brilliant class full of enthusiasm, as well as very helpful technical detail. The following paragraphs were written by our junior black belt member, Miss Nicola Burns:

I really enjoyed the three hour class on Sunday 27th July, with Mr Ridley as I learnt 'bucket loads'.

Mr Ridley helped me personally a lot as he could see I'm not very confident with my Taekwon-do and he pushed me until I was happy. He told me he had 'bullied' me and he had, but in a good way, to help me get stronger and better at my Taekwon-do skills. Mr. Ridley helped everyone who showed up for the lesson, by pointing things out and asking us all what we thought about it and then going into detail on how to do different techniques correctly. I think the class helped everyone who turned up to be able to demonstrate moves to others who are having difficulty and need help to improve. We went through our Patterns in detail and picked out certain techniques to focus on. We also did some kicking techniques and self defence. The self defence part was one step sparring and free sparring. The time we had was very enjoyable as Mr Ridley is very friendly and corrects you in a nice but firm way. I therefore really appreciated Mr Ridley coming to Chester to help us all and I personally thank him for helping me to improve certain areas of my Taekwon-do.

Nicola Burns, Black belt aged 12.

---
ITF England Championships Tournament, Sunday 20th July 2014
Five Chester Taekwon-do members (plus a few supporters) went to the 1st ITF England Championships tournament in Stratford-upon-Avon on Sunday 20th July. Our association, T-UK, had the honour of hosting this event and it proved to be a great success, with over 350 competitors taking part. As well as them, there were numerous coaches and umpires/officials. Several ITF Masters were also present, including ITF England President, Master Donato Nardizzi (VIII Dan), as well as Masters Wallace, Denis, Anderson and Chesterman.

Chester had three coloured belt competitors taking part, namely James Hymes, Kris Dawson and Aaron Joinson, all of whom performed very well and although none of them won any medals on this occasion, a couple of them got very close. They will have learned and improved from the experience though and the general impression was that they enjoyed themselves.

Also there from Chester were instructors Mr Jonathan Emm and Mr Scot Hickinbottom, who were umpiring and officiating for most of the day. Mr Hickinbottom was brave enough to compete in the patterns cometition as well as officiating, whist Mr Emm was working on the various rings for a total of about 11 hours!

Overall, it was a long and hard, but brilliant day. Apologies for the lack of photographs, but we were so busy that we didn't have time to take any! When the official photographs are published, we will try and add a few here.
T-UK Umpire Course, Sunday 6th July 2014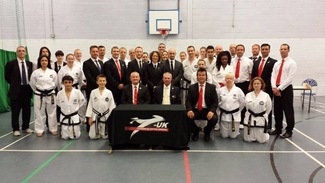 On Sunday 6th July, four Chester Taekwon-do members attended the T-UK national umpire course in Stratford-upon-Avon. Chester instructors Mr Jonathan Emm, Mrs Katharine Shuler and Mr Scot Hickinbottom were all present, along with 1st kup member, Jon Fussell. The course was taught by T-UK President and Vice-President Mr Archer and Mr Ridley (both VI Dan) and they were assisted by special guest Master Ken Chesterman (VII Dan), who is the senior member of the ITF England Umpire committee and who has referee'd/umpired at ITF World and European championships.

Everyone on the course really enjoyed it and everyone learned a lot too, especially the new umpires and coloured belt members. Jon Fussell described it as "a cracking day!"
---
---
Coloured Belt Grading, Saturday 21st June 2014
Big congratulations to the Chester TKD members who successfully passed their grading tests at the Trident TKD Academy in Sale on Saturday 21st June. As usual, T-UK President Mr Archer tested them very thoroughly and our members performed very well once again in order to succesfully reach their next grades.
---
International Instructor's Course (IIC), Dublin, 23rd - 25th May 2014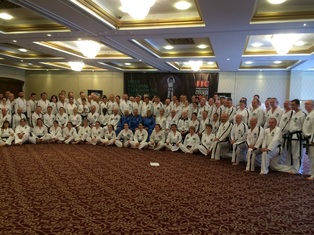 On the weekend of 23rd to 25th May 2014, Chester instructors Mr Emm and Mr Hickinbottom travelled to Dublin for a weekend of training with the ITF Technical Committee, consisting of three 9th Dan Grandmasters. This is Mr Hickinbottom's report on the weekend:
Towards the end of May myself and Mr Emm, along with a few other T-UK senior instructors, attended the 92nd International Instructors Course (IIC), hosted by Master O'Toole (8th Dan) in Dublin. The course involved 15 hours of instruction over three days from three 9th Degree Grandmasters; GM Marano, GM Lan-Ung and GM Bos.

The course was split such that the 1st-3rd degrees trained in one group, and the 4th degrees and above were in another. Over the course of the training we covered everything from basic movements, techniques and patterns through to sparring drills and self-defence. This was some of the most valuable teaching I have received; though I could maybe have done without the slap to the face from Grandmaster Lan-Ung! As an addition to the normal course content there was also a session with Master Nardizzi (8th Dan and President of ITF England) about how best to teach Taekwon-do to young children. This was a fun and informative session, not least because I got to join in and try out some exercises and games.
The Friday night also saw our group attend the IIC banquet, organised for all attendees of the course. This gave us the chance to get out of doboks and in to our best attire, and to relax and enjoy some frankly delicious food! We also had the chance to meet with the Grandmasters outside of the dojang, albeit briefly. It was a great night, though maybe not the best preparation for the full day of training on Saturday!
Here
is the article describing the IIC on the ITF global website and
here
is the corresponding article from the ITF Europe website, featuring a photograph of Mr Hickinbottom with Grandmaster Lan.
---
---
Charity Spar-a-thon, Saturday 10th May 2014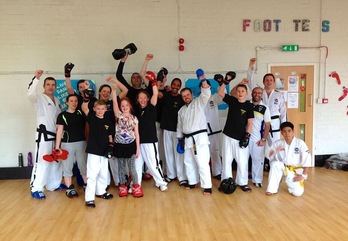 On Saturday 10th May, Chester instructors Mr Jonathan Emm and Mr Scot Hickinbottom, as well as 3rd kup member Beth Degg attended a charity spar-a-thon at the Trident academy in Sale. The event comprised a non-stop, 9 hour sparring session by members from throughout the Trident group, as well as a bake sale and a raffle with some fantastic prizes.

The event was arranged to raise money for Ms Daniela Bright, who is a Taekwon-do black belt, MMA fighter and a friend and former teammate of Mr Emm and a number of the Trident black belts. She has been diagnosed with breast cancer and the spar-a-thon event raised over £1250 to help fund her medical treatment. Other events are planned to help her further in the near future. Anyone that wants to can donate at her fund-raising website, here: http://www.gofundme.com/cancer-my-biggest-fight

Daniela was very grateful to everyone that took part and donated.

Thanks very much to the other Chester members who have made donations and purchased raffle tickets.
---
---
Coloured Belt Grading, Saturday 29th March 2014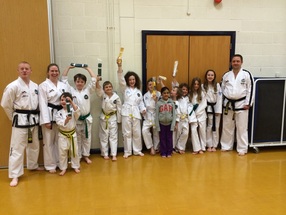 On Saturday 29th March 2014, a number of Chester Taekwon-do's members once again took the regional grading test and I am pleased to announce that all of Chester participants were successful on this occasion!

As usual, it was a very thorough test conducted by T-UK President Mr Archer, increasing with difficulty along with the grades to ensure that all of the successful students knew that they really deserved their new belts, and to ensure that the standards within our association are kept at their current very high levels. Congratulations again to all of Chester's members that took part!


---
---
T-UK Technical Course, Sunday 16th March 2014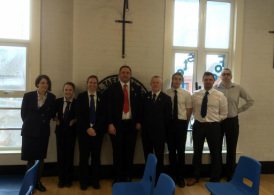 On Sunday 16th March 2014, Taewon-do UK held its largest ever technical course at the Trident TKD academy in Sale, Greater Manchester. The course was led by T-UK President Mr Archer, vice-President Mr Ridley (both VI dan), Mr Crisp and Mr Miley (both V dan). There was a huge turnout of black belts and senior coloured belts from our region, including 8 participants from Chester.

Everyone learned a great deal from the senior instructors as we spent the morning discussing the meaning and purpose of the tenets of Taekwon-do, as well as some of the history and etiquette that we should all be aware of. The afternoon was a much more practical session, with everyone in their doboks, going through all of the coloured belt patterns in real technical detail, to ensure that everyone not only knew the techniques, but that they understood every detail associated with it.
---
---
ITF England Selections Tournament, Sunday 9th February 2014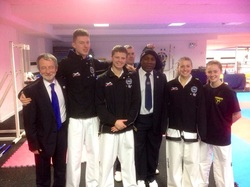 Fresh from the Umpire course in January, Chester Taekwon-do's senior instructor, Mr Emm was again representing Chester and T-UK at the ITF England Selections Tournament that was held at the TKD Impact academy in Croydon. Mr Emm was one of two centre referees on the day and also helped by corner judging and scoring patterns.

T-UK had a small team of competitors there (shown in the photograph with Master Tom Denis (VII dan)). Mr Emm and Mr Jeff Brider were the T-UK umpires in attendance; Mr Miley (V dan) And Mr Scriven (IV dan) were T-UK's coaches.

The T-UK competitors all fought and performed very well. Izzy Brider (II dan, on the far right of the photograph) was the most successful on the day, as she won her patterns division and came second in sparring.
---
ITF England Umpire Course, Sunday 26th January 2014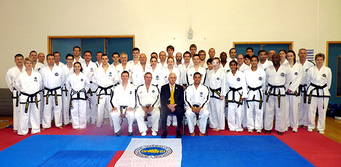 On Sunday 26th January 2014, Chester Taekwon-do's senior instructor, Mr Emm,
represented Chester and T-UK at the ITF England Umpire Course that was held in
Rickmansworth, Hertfordshire. Mr Emm worked closely with the course'
instructors and organisers in preparing for, writing and designing the
course. He was also T-UK's senior representative there on the day.
See the report (
here
) on the ITF Europe (AETF) website.
---