Coloured Belt Grading Tests, Trident TKD Academy, Sale, Saturday 24th March 2018
On Saturday 24th March 2018, we had our first coloured belt grading tests of the year for our junior and adult members. As usual, the tests were at the Trident Taekwon-do Academy in Sale, Greater Manchester and the grading examiner was T-UK President, Master John Archer (VII Dan).

Chester had an excellent turnout, with 15 of members being tested across the different age and grade groups. Master Archer was as thorough and fair as usual and Mr Emm was delisted to see that all of our members had prepared very well for the gradings and they gave outstanding performances across the board, with all of our entrants being successful in reaching their next grade levels. Well done to all of you!

Special mentions and congratulations go to Angelina Pearson for receiving an A' grade pass and to Ksenia Mangan for reaching her 1st kup (black stripe) grade, with a very brave performance in a tough test.
---
Chester's first ever Taekwon-do Kubz Grading, Monday 5th March 2018
On Monday 5th March 2018, during our normal class, we held our first ever Taekwon-Do Kubz grading for our youngest (4-7 year old) members. Our very own Mr Emm was the grading examiner, whilst Mrs Shuler was the organiser, motivator and chief usher, encouraging the kids through their exercises and testing them on the knowledge they have obtained.

It was a wonderful experience for everyone involved and it was very gratifying to see the young kids enjoying themselves and proudly showing and telling Mr Emm what they have learned. Great credit must go to Mrs Shuler for organising and running our Kubz classes, as well as to Miss Nicola Burns and Ksenia Mangan for their support and assistance. Massive thanks must also go to Master Hutton (VIII Dan) for his inspiration, example, motivation and the huge effort he has made in developing and promoting the brilliant Kubz programme, as well as to Mr Miley (VI Dan) for bringing the TKD Kubz programme to T-UK and the Trident group of clubs.

Thanks also to the parents and families for bringing their children to our club, but most importantly a huge well done and congratulations to the amazing kids in our Kubz class. We have all really enjoyed teaching them and were incredibly proud to see their performances!
---
T-UK Trident Championships Tournament, Manchester, Sunday 4th March 2018
On Sunday 4th March 2018, a few of T-UK Chester's members attended the Trident (North-West) regional championships tournament in Manchester. The tournament was very well organised, with around 200 competitors taking part, as well as an excellent team of officials.

All of Chester's competitors gave excellent performances, with special congratulations going to our medal winners, Mrs Katharine Shuler, who won a silver medal in the black belt sparring division and to Natasha Cheers, who won silver medals in both patterns and sparring at her first ever tournament! Our other competitors also did us proud, although they missed out on the medals, as they were competing in some very impressive categories, against tough opponents.

Mr Emm, Mrs Shuler (when not competing) and Miss Nicola Burns also worked all day as umpires/officials. Nicola earned special praise from the senior officials for the competent way she performed as an official, despite her young age.

---
T-UK Area Seminar, Manchester, Sunday 18th February 2018
On Sunday 18th February 2018, T-UK's annual training seminars in the North-West region were held in Manchester. The training sessions were taught by T-UK's two Masters: T-UK President, Master John Archer and vice-President, Master Ian Ridley (both VII Dan).

The morning session was for coloured belts and it was attended by several of Chester's members, including many of our red belts:
​John Simpson, Adi Iyer, Simran and Aman Rayet, Ksenia Mangan and her green stripe sister, Sophia Mangan. Our two masters covered much of our syllabus, going through fundamental movements, patterns and self-defence techniques, whilst Mr Emm assisted Master Ridley in teaching fixed sparring and some other techniques whilst Master Archer took the higher grade members through their patterns.

The afternoon session was for black belts and Chester's assistant instructors Mrs Katharine Shuler and Miss Nicola Burns joined Mr Emm for the black belt training session, which followed a similar format to the coloured belt seminar, but focussing on the black belt patterns and some more advanced techniques, after ensuring that our basic movements were also being performed correctly.
---
T-UK Executive Meeting and Instructor's Course, Manchester, Sunday 28th January 2018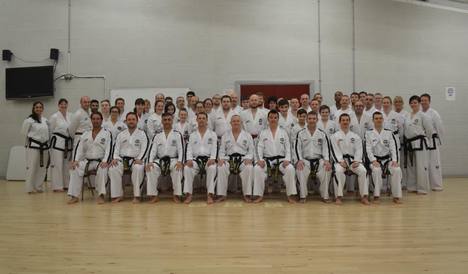 On Sunday 28th January 2018, Mr Emm attended a T-UK executive meeting, where all of our senior black belt members (4th degree and above) discussed plans for 2018 and the future. Our association is one of the best in the UK, but we are always trying to make it better and this year will be no exception, with a number of exciting projects taking place, which will benefit our clubs and our members.

Afterwards, all of T-UK's current and aspiring instructors, including (of course) our own Mr Emm and Mrs Katharine Shuler, had an instructor's training course led by the T-UK directors. This was to make sure our teaching techniqiues and administration procedures are fully up to date and the best available. It was an enjoyable day for everyone involved and the future looks very bright for T-UK, as well as for T-UK Chester!


---
---